Maggie, as she was referred to by Richard & Colin, has completed three overland trips - the first trip, completed by Richard & Jo Hepper in 1998, was a 4-month trip from the UK to SA.
Colin bought the Landy in 2000 and spent 2 years in Africa having shipped from Jordan to Cape Town as Sudan's border was closed. He then married Wendy, had the Defender 90 (short wheel base) converted to a Defender 110 (long wheel base) and spent 6 months on honeymoon in Africa. Highlights included the Wildebeest migration, Van Zyl's pass and endless sunsets - all this before shipping the Land Rover back to the UK from Cape Town.

Soon to be equipped for overland travel

Photo taken in Kenya by Richard Hepper

Photo taken in Namibia by Colin Clements

Maggie - now a 110 in Botswana
The many 'faces' of the Land Rover called Maggie
Now it's our turn to take the vehicle. The Landy is in good condition for its age - the engine has had 140 000miles which was a slight concern, but to Colin's credit, he has looked after 'Maggie' very well.
The gear box and transfer box were rebuilt in South Africa in 2002 - both items are strong.
A major advantage is the equipment that comes with it - a tent, awning and a fridge along with the usual water filters, sand ladders, and high lift jack.
There are a few things that need to be done - new bonnet to hold a spare wheel, new soundproofing (essential in a Defender), 2nd battery but those are minor compared to starting an overland project with a new vehicle.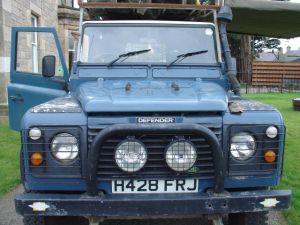 Click to read more about Colin's overland trip.