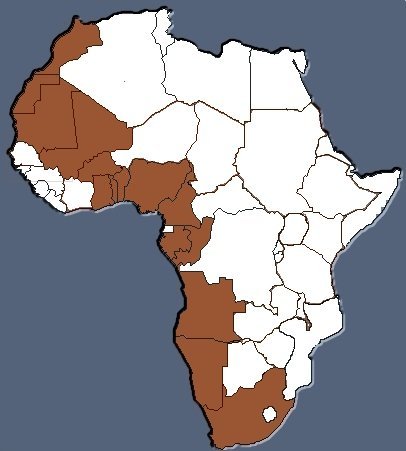 South, via West Africa
This route South has recently opened up and offers a unique experience via West Africa.
We ideally want to end up in Kenya for a reunion (August 2005) so this route might prove the long way round!
As of September 2004 it seems that this is going to be our route South. We are in contact with a number of overland trips that are intending to take this route South. See www.africa-overland.net for more information.
This route South does offer an outstanding opportunity of exploring parts of Africa that have been closed to the average traveller for a decade or more. Only from about 2003 did overland trips start using this route again.
--- Updated 24 November 2005 ---
We followed this route South and have covered the following countries...
Morocco - No Visa Required
Mauritania - Applied for Visa in Casablanca, Morocco
Mali - Applied for visa in Rabat, Morocco
Burkina Faso - Applied for visa in Rabat, Morocco
Ghana - Applied for visa in Bamako, Ghana
Togo - Transit visa at the border (7 Day transit)
Benin - Transit visa at the border then full visa in Cotonou (2-Day Transit)
Nigeria - Applied for visa in Cotonou, Benin
Cameroon - Applied for visa in Calabar, Nigeria
Gabon - Applied for visa in Yaounde, Cameroon
Congo - Applied for visa in Bamako, Mali
Angola (Cabinda) - Applied for visa in Pointe Noire, Congo (5-day Transit)
DRC - Applied for visa in Yaounde, Cameroon
Angola (Luanda) - Applied for visa in Matadi, DRC
Namibia - No visa required
Botswana - No visa required
Zambia - US$80 for a dual entry visa. Visa issued at the border
Tanzania - Applied for visa in Lusaka, Zambia
Kenya - US$50 for single entry unless remaining in East Africa. Visa issued at the border
Uganda - US$30. Visa issued at the border
Malawi - No visa required
Mozambique - US$15. Visa issued in Lilongwe, Malawi
South Africa - No visa required
Click for more Visa Information
Click NEXT PAGE for GPS Waypoint Information