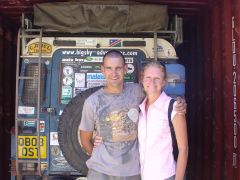 No point in sitting back and relaxing when there is an adventure at hand! In summary, there was just the two of us - Martin Solms & Debbie McMahon - One Land Rover Defender, and the whole continent of Africa! O yes, we took almost a year to do it in!
We departed UK shores on 22nd January 2005 and shipped the Land Rover home on 23rd November 2005.
The primary idea for this trip was to take a year out and to use the opportunity to travel from the UK to South Africa, detouring along the way to explore East Africa, climb Mt Kilimanjaro and see the mountain Gorillas. Throughout this trip we had the chance to explore Africa's diverse cultures - Northern Kenya -, her extreme wildlife - Southern & Eastern Africa - and her ancient landscapes.
There were a number of activities that needed to be completed prior to a trip like this - here are a few items on the list:
Vehicle preparation - incl. Carnet; equipment
Health stuff - vaccinations; travel insurance
Financial stuff - renting of properties; mortgage cover, Savings etc
Country planning - Arrival / Departure ETA; visa's
Pre-trip Trip - A two week break to 'bed' down the Landy and the kit
The paperwork was tiresome - read more about the paperwork involved!

Please Contact us if you would like to know more about our trip.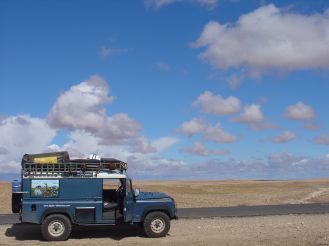 Moroccan BigSky Adventures (8 Feb 05)